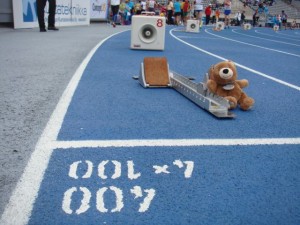 Lane 8 is where the slowest competitor is placed. In swimming. In running.
You never saw Michael Phelps (world's fastest swimmer) in Lane 8.  You never saw Usain Bolt (world's fastest runner) in Lane 8.
And yet Lane 8 is my goal.
This week, like most of you, there was a serious struggle to find the right balance of physical activity and healthy nutrition.  Diet and exercise.
Here's one of my little secrets.  Are you interested in it?
Dream Big. Get There.  Stay There.
Come up with a mantra, a saying, that will keep you focused on one simple goal.
To not give up, no matter the set backs.  Ever!