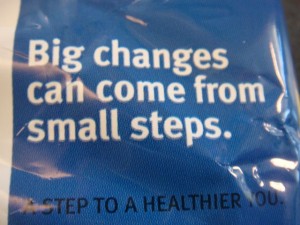 What the?  Keep my goals very small?  Didn't you say to dream big?
Didn't you say, "If your goal isn't impossible, you're not reaching high enough."
Exactly.
And maybe the challenge for many people, including you, is that your definition of impossible is inaccurate.
When I started running 11 years ago, my impossible goal wasn't to run in the Master's Track & Field World Championships.
It also wasn't to run one mailbox a day for a week, and then two mailboxes a day the second week and so on.
It was to get started and never stop.
One day at a time.  Get started and never quit.  Never quit, one day at a time – this is what I mean by very small goals.
Do you see the difference?