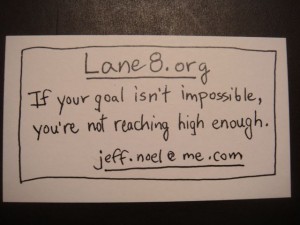 One of the secrets I've learned is that it's better to simply get started and do, rather than worry and wait.
Yeah, at risk with a business card as "unprofessional" as this is that people won't take you seriously.
However, what's also at risk with some really slick, professional business cards is they will also get neglected, not because they aren't professional, but rather because they're boring.
Many people think if they do things a certain way, then everything else will fall into place.
Maybe. If you work for an established organization.
And maybe if all the critical tools and resources – marketing, legal, human resources, community relations, public relations, media relations, finance, advertising, hiring, organizational structure, vision, mission, brand, etc – have long been established.
Maybe, but, if you've ever dreamed of being an entrepreneur, you are in for a rude awakening.
Same goes for health.
Here's to hoping your phone never rings in 2010 with this, "Honey, it's for you. It's your wake-up call."