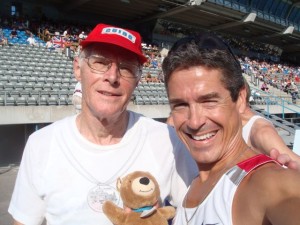 Let's shake it up a little bit today. You good with that?  Good. Let's go back to this past summer.
Here's the scene.  Early August, 2009.  Sunny, clear, 70 degrees.
Finland.
Master's Track & Field 2009 World Championships. Men's 400 meters, 70-74 year old age group.
Enter a German man.
Click here to see the secret this "old man" reveals about getting and staying healthy.
PS. If you are too busy to follow this and invest two more minutes, please go look in the mirror and say something like, "I really do want to get healthy and stay healthy, but I just really don't want to work very hard at it."