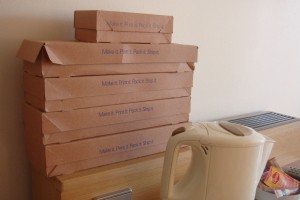 Lane 8 business cards have a unique beginning.
Do you have interesting stories about important moments in your life?
If so, then you realize that if we don't find a way to capture that moment, it will disappear and be forever lost.
Great companies do this. Great Countries do this. Great religions do this. Holidays, milestones, traditions.
Three days before flying to Helsinki, Finland, it dawned on me that there were going to be 5,300 athletes from 80 countries and untold spectators. I needed business cards. Lots of business cards.
"Okay, you don't have much time", I said in a panic.  "But you do have an enormous opportunity."
I cut out a handful of business card size pieces of card stock (my wife always has stuff like this on hand).
In only three tries, I had what I wanted.
My wife commented that even the edges I had drawn weren't straight.  "Perfect", I said.
Two days before the leaving the United States, I asked Kinkos/FedEx how much for 1,000 or 3,000 cards.  And then I said, "How much for 5,000?"
The rest, as they say, is history.