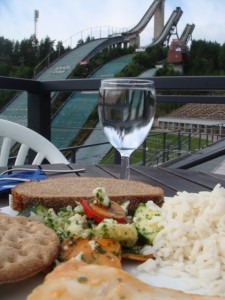 When do we think about our long term outcomes – from the food choices we make this week?
Um, well, uh, like never.   Right?
Most of us can't or don't want to see that far, because it's too much work. Or, we won't give up today's pleasure and convenience for tomorrow's payoff – good digestive health.
Our son told me last Friday on the drive home from school that he had a "confession". He doesn't really like the bread (double fiber) we use to make his lunch sandwiches.
Grateful for the truth, but now what?
So last night on the way home from a doctor's visit, I stopped to get some food items, including a different kind of bread, but with the same digestive goal – high fiber.
Blogging about health enhances accountability and increases motivation. Are you working on that too?
If not you, who?  If not today, when?  Seriously. Enjoy your lunch.