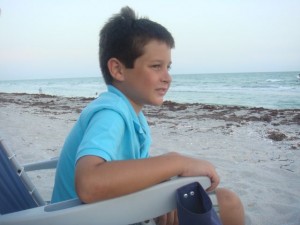 Ever struggle with your motivation to exercise or with making smart food choices?
(If you said no, you're lying)
Yesterday while at Gold's Gym Orlando, I asked one of the staff, "What is it that makes some people commit to exercise for a lifetime and others quit after a few weeks?"
What do you think?  How would you answer it?
I suggested that we can not do it for ourselves, we must do it for someone else. If we fail, we only let ourselves down. But if we do it for someone else and we fail, we let them down.
The other person challenged my rational (which is exciting), and in the speed of the day, neither one of us, in this casual conversation, really had a desire to debate this further at that moment.
Yet on the drive home, what I had been trying to say was revealed. We need to be a role model for great health habits. This is the secret that eludes people.
You must be someone's role model, for life. This means you can not fail. There is no greater motivation.
If this is flying over your head, you're at huge risk to miss this simple, but compelling health secret.