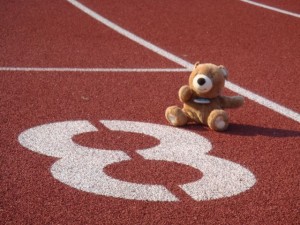 Do you ever think back to the times, as an innocent child, when you dreamt impossible dreams. Oh, they didn't seem impossible then. That only happened as you got older.
Like many children, I  wanted to be a famous athlete. Maybe the next Jim Brown of the Chicago Bears. Or become the world's fastest human. I was, after all, the fastest ten year old on my street.
Next Thursday through Sunday will be the 2010 USA Masters Outdoor Track and Field Championships in Sacramento, California. If you are at the meet, make sure you stop by the National Masters News booth and say hello to Randy Sturgeon, publisher of National Master News. He'll be competing in the Pentathlon on Thursday, hopefully. He's been nursing an injury, but will be there all the rest of the time. He hopes to see you there.
For good measure, and in the spirit of wishing to be there, I ran a 2:32 800 meters this morning.
Click here to go to the next blog.