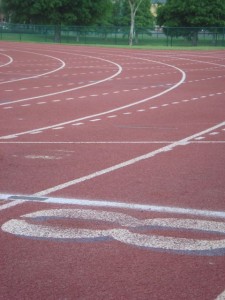 The 2010 US Master's Track & Field National Championships concluded yesterday. Wish I could have been healthy enough to compete.
During the Championships, many of the world's best athletes ages 30-96 demonstrated speed, power, skill and endurance, showing that age is no barrier to lifetime fitness and competition. The Spanos Sports Complex was the site of the 2000 and 2004 U.S. Olympic Trials – Track & Field, and will play host to the 2011 World Masters Athletics Championships, July 6-17.
World Championships in 2011?  Are you kidding me?
No.
At 51, it's still my vision to make it to Lane 8, the worst lane in track & field.
(next blog)