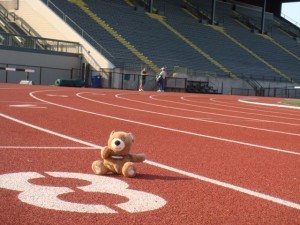 If you're interested in competing at the 2010 Master's Track & Field National Championships, here's a link for housing information. I know, no one cares about the housing information.
But we are a curious bunch, aren't we? Is it human nature?
So, I'm banking on your curiosity. To click through and to follow where this Summer's story may lead.
Staying healthy and having fun, for our entire lives, is one of life's biggest challenges. A small injury can throw us off track. A Family emergency, or a long business trip can do the same.
Or, maybe a serious injury, like Plantar Fasciitis can last two years or more. Eventually things get better, if we don't give up.
The next five weeks will be very interesting, and very tempting.