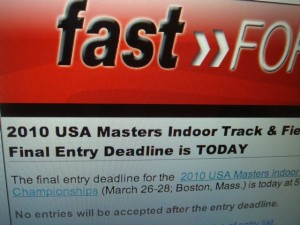 How are your exercise goals progressing so far this year?
And what do you do to stay motivated, in spite of all the easy reasons to quit?
After many years of running on my own, with no companions, and no competitions, I discovered the unusually satisfying effect of age-group competition.
First in 5k races, and a few 10k races.  But my body frame isn't really built for distance – whatever that means.
And then there's the fact that life can be bittersweet, can't it?
So yesterday, in the rain, I have a great five-mile run, with virtually no foot pain.  Foot pain is what kept me away from the Master's World Indoor Championships two weeks ago in British Columbia and what is keeping me away from this month's Indoor National Championships in Boston.
Life goes on. Some opportunities go past us, and others will find us when we least expect them.
But only if we never give up.
Sometime soon, I'll decide on if there's another shot at competing this outdoor season.
PS. There are two posts at Lane 8 today. Scroll down for "health habits revealed".