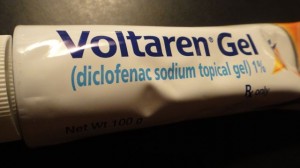 We all know motivation comes and goes like the wind. It's very challenging to find it every single day.
Yesterday's Lane 8 blog post featured a photo of Scott Rigsby, the first double-amputee to complete the Ironman Triathlon.
My son and I were at Hanger Prosthetics Tuesday, turning in a script for two new night splints.
Yeah, I have to wear two night splints every night. And custom Orthotics in each shoe. And take Celebrex daily, and use Voltaren gel 4x a day, and ice my left foot twice a day.
Bet Scott wishes that was the least of his motivational challenges.